With these weekly lists, I notice how fast the weeks are going by! Along with it is a disappointment that already it's April next week, and yet weeks go by and I'm not getting much done. But! The point of these lists is to encourage myself slowly, and I want to focus on what I have done rather than get bitter about what I haven't. There will always be something more that we could have done each week, each day, but this is the case even for non-disabled people! With the lists, I want to remember not to only complete them and then stop for the week, but if it inspires me further, then that's good, but in learning to pace myself (even after eight years with the disease) I must stop viewing every little thing as obligatory. Even hobby-wise, I have so many of them that it's hard to devote time to some of them, such as keyboard and songwriting, art too, but it will never work for me to feel obliged to regularly work on them all within a short space of time, say a month, because I will stretch myself too thin. It's simply a case of prioritizing certain hobbies above others, and working on others more occasionally; I did do a sketch of my cup of tea yesterday, so I'm chuffed! Not bad for a relative beginner who has little time to devote to art, I don't think. 🙂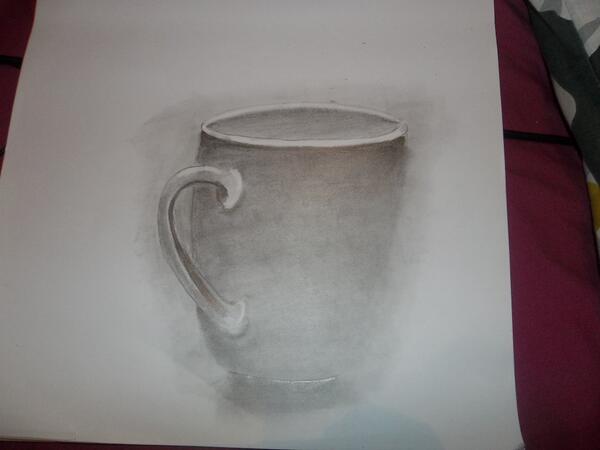 Anyway, onto last week's goals!
1. Move laundry to other room for sorting.
We did more than just move the laundry, happily! We sorted it on the same day, and one load was done here at the house; we just need to wait on a nice weather day and get the rest done at the launderette. And when the backlog is done, I must must must keep on it regularly and never let it pile up like that again!
2. Get back into taking pills regularly and keep weekly pill box filled. (I've been rather lazy about sorting my pills and so haven't been taking each day's pills for definite.)
I did fill the box, didn't take them as much. I need to make it a more regular point in my day so I actually remember. My occupational therapist suggested keeping them downstairs but I barely make it downstairs on some days. I think I need to start making sure I take them with dinner, which I do have more regularly because my sister cooks with me.
3. Work on my novel.
I wrote around three pages yesterday, which amounts to somewhere around 900-1000 words (I won't know until I type it up, as usual). I stopped only because I was interrupted to play with my niece and baby nephew. I'm getting scarily close to the end of this novel, so I think I need to specifically devote time to more thorough planning before that happens, because I hate being stuck in between projects while I work on the planning.
4. Start on a new translation for a language I'm learning but I don't have a project for (i.e. Latin, Slovenian). (My sister is still in the process of convincing me to start Ancient Greek! I'm learning 12 languages, plus I'm an absolute beginner in Japanese and haven't done much at all for it, and I'm still tempted to add more!)
I failed this one! In fact, I didn't work on any translations all week, otherwise I would have chosen Slovenian, I think. I think I should make a deal with myself not to add any more languages (specifically Romanian and Hungarian are the ones I'm closely considering, as I have some Romanian knowledge already and am tempted to put in another Uralic other than Finnish) until I complete a substantial part of the translations I have already!
5. Work on a current crochet project (i.e. either the baby cardigan or the Granny squares for my niece's Scooby Doo characters!)
Unfortunately another failure. Yesterday my niece stayed overnight as usual on the weekend, and she inquired about them, but because I had done the drawing that day, it massively flared up the tendinitis in my hand so there was no chance of working on crochet! I feel like a rotten uncle. 😦